Posted Friday, April 24, 2015 at 12:51pm
A Champion's Achilles on the Oregon Trail
 By Bill Wood
Photos by Scott Rains
Greek mythology says a mother named Thetis dipped her baby Achilles in the River Styx to ward off a prediction that the baby would die young. But apparently the river water didn't touch the baby's heel where Thetis held them above the water. The myth said that became his weakness, his Achilles Heel.
The Achilles weakness for 2012 Rally America Super Production champions Lauchlin O'Sullivan and co-driver Scott Putnam is ahead of the team April 24-26 at the Oregon Trail Rally, the third event on the 2015 calendar and the longest rally in the series. O'Sullivan and Putnam limped to a finish last year after three consecutive DNFs including a devastating crash in 2013. Even the team's 2012 championship season included a DNF in Oregon.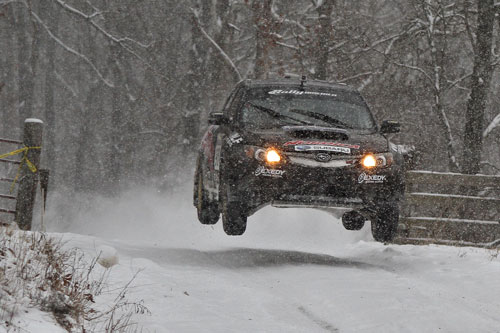 "They're not difficult roads," said O'Sullivan from his home in San Francisco. "We've had bad luck but we're ready to turn it around this year. There was kind of a question mark last year because we hadn't done well. But because we finished I feel that's the step in the right direction and I'm ready to attack this time around."
"There's a slightly higher level of concern," Putnam added from his office in Minneapolis. "We haven't had good luck there. We've had engine fires and blown motors out there. The stages closer to (the city of) Hood River are a little bit rougher. They can be very challenging to read. I remember back in 2012 I could feel the impact of the rocks coming all the way through the tires to the wheels. That was kind of bizarre."
The roads in Oregon are unique to the American rally championship season. Sno*Drift is the first event of the season last January in Michigan. The roads there traditionally are covered in ice and snow with temperatures in the single digits most of the weekend.
The second event was 100 Acre Wood in Missouri in February. Traditionally the event is on fast, flowing roads. But this year the rally teams faced roads covered in ice and snow from an Ozarks storm. O'Sullivan and Putnam finished second in the Super Production (SP) category at both events. They're currently second in the SP championship in their 2008 Lucas Oil/Wolf LED Rally Team Subaru WRX STI. That's after two of eight events on the calendar.
The average weather conditions for the Hood River/Dufur, Oregon region east of Portland (where many of the stages will be run Saturday and Sunday) call for day time temperatures in the low 60s with lows at night near 40 degrees with slight rain showers predicted. In short, there might be dust in the daytime turning to slick mud at night.
"It's going to be very nice to get to a place where we can have some grip," O'Sullivan said. "I'm keeping my fingers crossed." O'Sullivan did admit that it can rain in Oregon "turning everything into mud and mucky clay-type stuff with deep bogs of mud in the road. But I'm hoping for the best so these cars can show what they can do."
Both O'Sullivan and Putnam, however, remember the fast, off-camber corner where they crashed in 2013 destroying a good car and a good season in the process.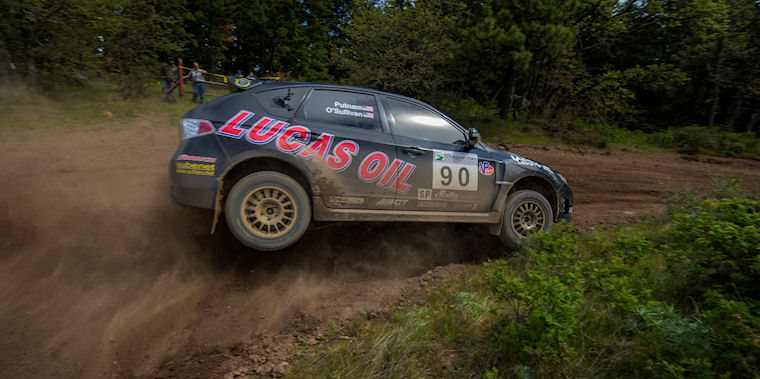 "We know exactly where that corner is," said co-driver Putnam with a good nervous laugh. Do they burn a candle when they go by the area? "I'd say there's a little pointy thing on the seat, at least, on my side of the car. I do look up and pay attention. I let (Lauchllin) know exactly where the corner is." Putnam said last year the team went through that corner slowly. "It left a deep imprint in more ways than one."
<p">Friday night at the Oregon Trail Rally is very unique to the American championship. The stages are run on and around the Portland International Raceway, once a major stop for major league racing like IndyCar and the American Le Mans Series. The stages, obviously, are very fast on the paved circuit racing surface but the crews often leave the paved race track to continue on the gravel access roads that surround the track. While all this is happening there's a popular car show and midway activities for fans who attend Oregon Trail. All of the Friday activities follow a traditional competition car show in downtown Portland on Thursday afternoon.
Notice the difference in how these cars come through this particular corner. Subaru's David Higgins comes through cleanly, we have a flat on the passenger side rear which causes our car to be very loose. The flat tire shredding is what is tearing the bumper skin off.
"They've got some nifty things in Oregon," Putnam added. However, he did say the team's Subaru WRX STI would go through some changes turning it from an ice and snow setup to a gravel setup for most of the roads in Oregon.
"Oregon, I doubt, could be anywhere near the road conditions at 100 Acre Wood," O'Sullivan said. "But if it rains anything could happen."
The final Achilles for O'Sullivan and Putnam could be Dr. Garry Gill, the emergency room doctor from India by way of Tennessee. He finished third in SP at Sno*Drift and won the class at 100 Acre Wood to take a two point lead over O'Sullivan and Putnam in the overall SP standings. It's a surprise for many. Gill has seldom shown this kind of speed. The top three Super Production drivers have been O'Sullivan, 2013 Rookie of the Year Nick Roberts and last year's champion Dillon Van Way. But Van Way is off on an international schedule this year and many expected the title to be fought between O'Sullivan and Roberts.
"Sometimes when a driver tastes victory it can really boost you to the next level," O'Sullivan said. "You want to taste the victory champagne again. We'll have to see with Garry. For him to come out and do well and do it right, it was cool to see. He's a competitor so we'll have to keep an eye on him."
The Oregon Trail Rally begins with a family friendly evening of competition at Portland International Raceway (PIR) on Friday April 24. Then the teams move east towards Dufur and Hood River for Saturday and Sunday.
Oregon Trail is the only three day rally in the Championship. It takes place in urban Portland, OR and through the Mt. Hood and Columbia River Gorge farmlands outside the city. Fast stretches of road combined with twisting foothill runs make this rally challenging for the teams and exciting for fans. This rally offers fans the best rally viewing opportunities due to its accessibility and wide-open unobstructed areas.
The Pacific Northwest weather is an ever changing variable. Rain is always possible turning the dust into mud. Falling temperatures could even see snow and sleet at Oregon Trial. In short, at Oregon Trail everyone can expect the unexpected! It's that Achilles story…