Posted Friday, December 2, 2022 at 4:14pm
Nemadji Trail. Will it be gravel, snow or ice this year?
Nemadji Trail
Cast of Characters:
Nemadji is the little road that can. Nemadji State Forest is located about 30 miles south of Duluth, MN. When you look at a map of the state forest, Our rally is on the one road that looks squiggly and really interesting. The majority of this road is wide and flowing, with a few technical sections to negotiate in the middle. The challenge of Nemadji is actually the weather. Will this be a gravel or snow event or a combination of both?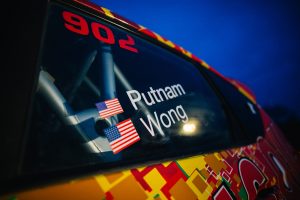 Last year it happened to be a gravel event with just a touch of ice to keep things interesting.
Codriving in the right seat last year was Alex Wong, photographer extraordinaire. He will be there again in the right seat this year too. Having Alex sit in the right seat was the result of a conversation on rally stages that we had. The question came up. "With all the years you've been around rally, have you ever been on the right seat of the car?" The answer was no. We had to fix that!
The Road:
As I mentioned before, last year's event was mainly frozen gravel with a few icy spots thrown in. The road for the most part is smooth and is not a car breaker.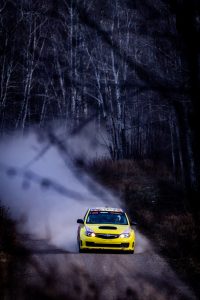 If we are lucky and it is a strictly a gravel event life is great. Usually this is not entirely the case and on occasion it is a snow or ice event.
Fifty percent of the time it is usually a combination of gravel and icy spots.
When you are running it is critical to get the "slippy's" out and this is worked out during the morning's recce. The trick in recce is extrapolating what your line will be and things are actually going to be like when one is barreling along at speed. The stage is 8.5 miles long with a turnaround at the end of stage 1 and 3.
Going in on stage 1 the initial run is a 300 yard straight into a R4lg>, read as Right Four Long, Tightens. Until you hit the three's in the middle of stage you are in series of fours, fives and a few sixes which translates to a lot of 60-90MPH driving. The road is wide compared to an event like Lake Superior and generally is two lanes wide compared to the one to one and a half lanes of Lake Superior. This allows a little more leeway to play around with your speed through the corners with a larger safety margin. Someone always seems to end up in the trees despite this wideness factor.
The threes in the middle are three threes that are nicely linked, coming quickly in a tighter and a bit narrower section of road which widens again as you exit the series of corners. Last year you had a bit of ice in there that softened in the afternoon and hardened again after the sun set. The last half of the stage is a little slower with some threes thrown in the mix of four's and fives. Stage 2 and 4 are this in reverse. The last stage of the evening usually is more challenging because it will now be dark and what got soft in the afternoon is now hard and less forgiving.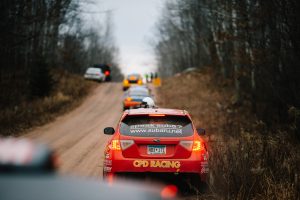 This year reading the crystal weather ball has been challenging. Every day the forecast has changed radically. It was warm today (Friday) and there will be a bit of precipitation with a hard freeze and highs in the mid-teens tomorrow.
Tire choice will be critical and in this severe cold regular gravel tires will be hard and useless.
Our most likely choice will be Yokohama AO34's which have a niche when encountering a mix of ice/snow/gravel where they excel. The next option is ice tires, which I am hoping we won't have to use. We will find out in the morning!