Posted Saturday, August 29, 2015 at 11:45am
O'Sullivan & Putnam Fight Problems But Remain in Hunt for 2015 SP Title at Ojibwe
O'Sullivan & Putnam Fight Problems But Remain in Hunt for 2015 SP Title at Ojibwe
2012 Rally America Super Production champions Lauchlin O'Sullivan and co-driver Scott Putnam finished the first of two days at the Ojibwe Forests Rally still in the fight for the 2015 SP championship despite intermittent car problems at the Friday overnight halt.
Their main rivals for the championship, 2013 Rally America Rookie of the Year Nick Roberts and co-driver Rhianon Gelsomino, in a  2013 Subaru Impreza WRX STi, lead the Super Production category by 3:52.1 after six of fifteen competitive stages near the Detroit Lakes region in northwest Minnesota.
"When the car's running fine we're fast," Putnam said after the Friday loop of stages.  "When it's not we're not."  He said there were problems with a sensor in the car after the early stages Friday.  There were also fuel feed problems especially on SS6.  That slowed the battle tremendously Friday night before the halt.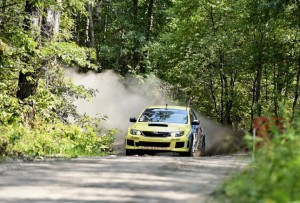 "It was gonna be a good battle with Nick," O'Sullivan agreed.  "But then on stage two the car started misfiring and there were fuel feed problems."  Heavy dust didn't help either.  When the car started its problems O'Sullivan said he pulled over a couple times to let people through who were slowed by their dust.
The stage times support the analysis from O'Sullivan and Putnam.  On SS1 they were 3.7 seconds back from Roberts and Gelsomino.  The on SS2, Steamboat, they lost considerable time to the category leaders and fell to third in SP behind Garry Gill and co-driver Steven Harrell who were driving a 2007 Subaru Impreza.
"With two decent stages we caught up to Gary,"  O'Sullivan said. One of those stages was SS4, the 10.38 mile Crossroads stage.  O'Sullivan and Putnam were the fastest SP car on the section taking back more than a minute to Roberts and Gelsomino.  They repeated the favor on SS5 taking back another 1:16+ on Roberts and Gelsomino.  But the misfiring problems returned on SS6 and Roberts grabbed back some of the time he lost earlier.
"We're down to Nick," O'Sullivan said with some frustration late Friday night, "and that's a bummer."
There are actually two events going on inside the O'Sullivan and Putnam 2009 Lucas Oil/Wolf LED Rally Team Subaru WRX STI.  First there's the 2015 SP championship to consider.  With the points from starting and finishing the Ojibwe Forest Rally, the team can win its second Super Production title in four years no matter what Roberts and Gelsomino do this weekend.
But the other issue at hand is the competition for Roberts.  With a career that includes two 2WD championships and the 2012 SP title, O'Sullivan wants a good run at Roberts where neither team has car problems.
"We haven't had that this year," O'Sullivan said before the event started Friday afternoon.  "We do want to win the championship so we do want to finish.  But a straight out fight with Nick would be fun."  Championship drivers think about different things than the rest of us.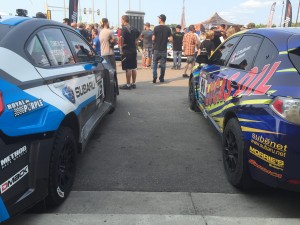 "We've got to finish tomorrow," he continued Friday night.  "The problem, though, are the slow corners. It's tough to keep up the momentum (because of the car misfiring.) We're going very wide to keep the momentum up.  I'm pumping the throttle to trick the system into getting fuel into the engine. It's been a strange year."  Putnam supported that assessment.
"A couple turns it's good then it starts bucking," Putnam said.  "It's hard to get a descent rhythm even calling notes on my side of the car."
The Friday night results show Roberts and Gelsomino more than three minutes ahead of O'Sullivan and Putnam with Gill and Harrell another four plus minutes back and third in SP.
Four-time defending champions David Higgins and co-driver Craig Drew lead the rally by 0:35.8 seconds over Subaru Rally Team USA teammate and another four time champion (2006-2009) Travis Pastrana and co-driver Christine Beavis. Adam Yeoman and co-driver Jordan Schulze are another 2:23.4 back in third place.
A disconsolate O'Sullivan did say there were times when the car did work and he took advantage of it.
"We went under the Red Bull arch (on SS1) and flew the farthest and the highest. That was fun."  But now the attention must turn to Saturday and nine more stages and an event finish.  That's all that stands between O'Sullivan and Putnam and a second Super Production title for the team.  It could be won before the final 2015 national championship rally, the Lake Superior Performance Rally in Michigan October 16-17.