Posted Monday, June 1, 2015 at 9:31am
O'Sullivan & Putnam Survive Tire Challenge for Second at Olympus Rally
The most significant championship battle in the Rally America championship is in the Super Production (SP) category and the results at last weekend's Olympus Rally prove that in the extreme.
The best rally teams in America invaded Shelton, Washington and the surrounding mountains Saturday and Sunday for competition in a national championship event that dates back to 1973.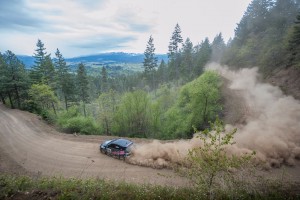 After Olympus we've reached the halfway point in the 2015 season to find Olympus Super Production winner Nick Roberts, two years from Rookie of the Year, and co-driver Rhianon Gelsomino in a 2013 Subaru Impreza WRX STi in the middle of a tight SP chase for this year's title.
Second in SP at Olympus was 2012 Super Production champions Lauchlin O'Sullivan and co-driver Scott Putnam who lead the SP national points going for their second championship. Both teams have a win this year but O'Sullivan and Putnam have two seconds to support their fight for the championship.
The battle at Olympus was tough all weekend. Roberts and Gelsomino answered two events of DNF futility with a run that saw them third overall at the end of Olympus. O'Sullivan and Putnam, on the other hand finished eighth overall. They had to battle back from a flat tire halfway thru the 16.08 mile Special Stage 7 on Saturday. They had to drive seven miles on a disintegrating tire eventually breaking apart a wheel and other suspension parts. It nearly destroyed their 2009 Lucas Oil/Wolf LED Rally Team Subaru WRX STI and their rally.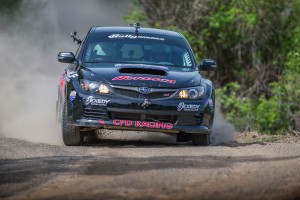 "In hindsight it's easy to discuss what we should have done," said O'Sullivan. "You take a road. We took the wrong road. Live and learn I guess. The car has some damage and will need to be repaired before the next event." The flat started dominoes falling after Nahwatzel West, the seventh of eight stages on Saturday. O'Sullivan and Putnam did get to the end of the stage before heavy suspension damage on the front left side of the car made the vehicle undrivable. The crew got out and changed the tire but took a ten minute penalty for servicing the car in an area that's forbidden in a rally.
"After all that to come back and get second was a marvelous thing," said O'Sullivan. "It really livened us up as a team."
"Second was the best we could have hoped for," Putnam added. The ten minute penalty put the team in back of a fast local team entered, Jeff Seehorn and co-driver Michael Milos in a 2005 Subaru STI. Seehorn and Milos spent much of Sunday second in front of O'Sullivan and Putnam. But they experienced a problem and did not finish Olympus giving second place points back to Lauchlin and Scott.
"You don't like to get it done that way but points are important in our fight for the championship," Putnam added.
The route headline for Sunday at Olympus was the hillclimb up Cougar Mountain, SS11. It was a narrow road with exposures from the lumber harvested in what's called clear cut. In short, there was nothing there. Added to the risk was a cloud that settled over the road during the 6.07 mile climb. There were times when vision was intermittent at best as the road went in and out of the cloud cover.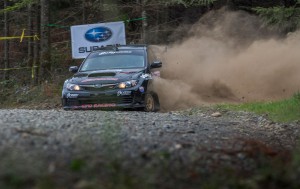 "I was turning on the defroster, pulling off my sunglasses, doing whatever I could to see where we were going," said O'Sullivan. "To not see anything and know (the exposure) was there was spooky. I couldn't see a thing. All I could do was listen to the notes and turn when the co-driver said turn. Luckily we have that kind of relationship. Scott did a really good job up there."
"When I'm co-driving, there's so much to do I don't have time to think about what we're doing," Putnam said. "It was a little nerve wracking. I'm trying to get the notes out and it's a total white out. There were times when you couldn't see out and maybe that was a blessing. I've never experienced anything like that. It was absolutely insane."
The next event is the Susquehannock Trail Performance Rally June 5-6 in Wellsboro, Pennsylvania. It's another event on mountainous roads but there can be lots of creek crossings especially if there's been rain in the region and several days of rain are in the forecast next week before the rally starts.
"I love STPR," said O'Sullivan enthusiastically. "Lots of people out there and super cool roads. It's always a fun event with super tidy roads. Usually damp out there. Rainy sometimes. I'm looking forward to it."
Finally, to throw another variable into the Super Production title chase. In the rules drivers are allowed to throw out two events at the end of the season. O'Sullivan, Roberts and Garry Gill, who wasn't at Olympus, are all within striking distance of each other at the top of the points. Being able to get rid of their bad events will leave the title chase to the very end of the season. It could be a "last man standing" kind of season.
It'll be the closest competition in all of the 2015 national rally championship picture.