Posted Tuesday, October 13, 2020 at 11:57pm
Travis Pastrana Gets Wild Subaru WRX STI For Next Gymkhana Video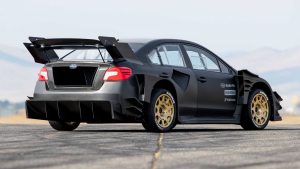 Travis Pastrana is stepping into Ken Block's driver seat for the next installment of the Gymkhana series, and he's got a uniquely modified Subaru WRX STI to do the job. Subaru worked with Vermont SportsCar to build the car specifically to do exciting things on video, rather than needing to comply with any racing series' rules.
Subaru isn't offering too many technical details about the Gymkhana WRX STI. The company confirms that it uses a custom-made boxer engine with exhausts that exit out of the hood. An overhauled suspension has a longer travel than stock. The carbon fiber body features massive fenders, a huge wing, and a gigantic diffuser.
Read more and watch..