Posted Wednesday, August 26, 2015 at 8:27pm
O'Sullivan & Putnam Compete for 2015 Super Production Title at Ojibwe
2012 Rally America Super Production champions Lauchlin O'Sullivan and co-driver Scott Putnam enter this weekend's Ojibwe Forests Rally looking for their second championship in four seasons.  It'll be a tough battle.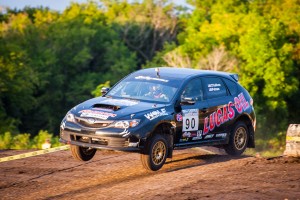 As expected the season long fight with 2013 Rally America Rookie of the Year Nick Roberts and co-driver Rhianon Gelsomino will be white hot at Ojibwe.  The math is confusingly complicated but it works out like this:  if O'Sullivan and Putnam get points for starting and finishing at Ojibwe they'll have more than enough for the title even if Roberts and Gelsomino win at Ojibwe and the final round at the Lake Superior Performance Rally in Michigan in October.
"Winning the championship is definitely at the top of the list of what we need to accomplish this weekend," O'Sullivan said.  But, like all championship level drivers, there are many things going through his mind before the eve
nt.  "I'm looking forward to a straight out fight with Nick.  We haven't had that this year. Either he's had a problem or I have.  We do want to win the championship so we do want to finish.  But a straight out fight with Nick would be fun." Drivers think about different things than the rest of us.
"It comes down to this," Putnam added.  "You can't do anything if you don't finish. We need those points.  Consistency this year has helped us in the points. We've finished every event and have those points.
Consistency indeed is the difference between the two teams.  After six of eight events, O'Sullivan and Putnam have two wins and four seconds in their results column.  Roberts and Gelsomino have three wins and three DNFs.  It's been a tough year for Roberts as he transitions towards a national championship driver.  O'Sullivan has two 2WD national titles and the Super Production championship to his credit.  Experience means a lot
in rallying.
The Ojibwe Forests Rally is the home event for both Roberts and Putnam who live in the Minneapolis metro area of Minnesota.  But the event has additional meaning for O'Sullivan and Putnam.  They ran their first event together at the 2004 Ojibwe and won the event overall in an Open Class Subaru Impreza.  Basically they've been a team for the eleven years since.  They were third at Ojibwe last year and won the Super Production category.
"We work well together," Putnam said with some humor.  "It's always worked in the car. We're like an old married couple at times." He said they both love music and baseball and football. Their texts between events can cover all of the above plus their families.
"Scott and I know each other really well," O'Sullivan remembered.  "We've grown to know each other really, really well.  We have good laughs in the car.  We're both in the mindset that we're always trying to be better human beings.  We're both championship oriented.  He's a really good Buddy."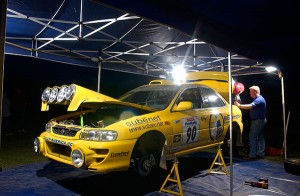 The roads at the Ojibwe rally are fast and flowing.  Some twist around the many lakes in the Detroit Lakes region of northwest Minnesota.  The closest major airport is actually across the North Dakota stateline in Farg
o.   The hard packed roads can be covered with sandy soil over bedrock that's close to the surface.  That means the cars are often launched irborne when they're mid-stage between thick groves of cedar trees.
"The roads are somewhat like Maine with the blind crests," O'Sullivan explained.  "But they're covered with the sandy soil that can sap the energy from the car.  You have to keep the momentum up.  Some people have so much power that they don't know how to keep the momentum up.  An event like this helps me."  O'Sullivan's national titles in less powerful 2WD cars have given him a lot of experience with maintaining momentum in a rally stage.O'Sullivan said the team's 2009 Lucas Oil/Wolf LED Rally Team Subaru WRX STI has been working very well the last couple events.  He looks forward to getting it on the roads at Ojibwe.  The man responsible for preparing the car is another rally veteran with championship intensity.  Welsh engineer Graham Evans is better known as Whiskers to people in the American as well as the World Rally Championship.  He has been around rallying since the early '80s and his resume includes work with international teams at M-Sport and Pro Drive.  He was a key member of the team that led Richard Burns to the 2001 World Rally Championship.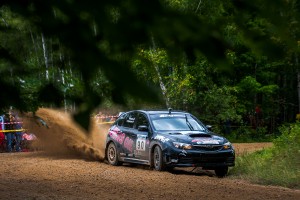 "Graham Evans brought consistency to this team," Putnam said.  "His pedigree includes working on million dollar rally cars.  When the car shows up it's ready to go. There's an experience level there.  He knows how the car should work on a rally."
"He's a damn good mechanic," O'Sullivan added.  "I like his work on the car."  And that plays into the consistency that might lead to a second Super Production championship in four years for O'Sullivan and Putnam. After the title run in 2012, there were two years of headaches and heartaches that included a shortened season when they rolled the car in 2013 at the Oregon Trail Rally.  Then there was the shortened 2014 year when another car had a braking issue and slammed into a tree before the 100 Acre Wood Rally in Missouri.  Tough times, though, are a part of rallying.
"This car likes racing," Putnam said with a laugh.  "We've never had an issue with this car.  It's been reliable and it seems to like it."
"We've never been a big budget team," O'Sullivan explained.  "Some people can wreck a car and have the funding to come back from that.  If I ball up a car there'll be repercussions.  We won't be able to go for a championship.  Most of my career has been like that.  Rally happens like that.  If you lump a car you have to take your lumps."
Looking ahead at the championship opportunities this weekend, O'Sullivan has confidence in the car and Scott this weekend at Ojibwe.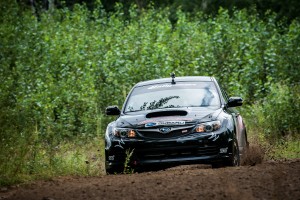 "There should be enough balance where you're fighting for wins all the time," O'Sullivan continued.  "That's what I like about rallying. You can attack each stage.  It's chess and not checkers.  You can take a little off and still do well on each stage."
This weekend we'll find out how it all comes together in the woods of north central Minnesota made famous b
the legend of Paul Bunyan and Babe, his blue Ox.  The legendary competition at this event will be the Super Production fight between O'Sullivan and Putnam and Roberts and Gelsomino.  But that's been the case all year.  Each team will be fighting for seconds a mile and points per day.
Forty-seven cars were on the entry list earlier this week.  Five were listed in the Super Production category.  The teams will be testing on Wednesday and writing their pace notes on Thursday.  The actual competition starts Friday at 4:30 PM Central time with a break before Midnight Friday.  The competition resumes Saturday morning at 10 AM and winds up about 9 PM Saturday evening.